Accessible Ontario: The Province's Top 10 Best Accessible Parks
By: Chris Gaspar
With warmer weather coming this spring, many like to enjoy outdoor activities such as camping, hiking, and fishing. In Ontario, many of these activities take place in our popular provincial parks. Have you ever wanted to visit one of these parks but weren't sure if they were accessible?
Here's a Top 10 list of accessible parks in Ontario to help you make the best decisions for your outdoor fun.
1. Bonnechere Provincial Park
Located in the Ottawa Valley, Bonnechere Provincial Park has taken steps to make its facilities more accessible for visitors in wheelchairs. These steps include:
hard packed day use trails
wheelchair accessible picnic tables
wheelchair accessible campsites
wheelchair accessible parking spaces
wireless alert systems
barrier-free office
barrier-free store
barrier-free comfort station
barrier-free vault toilet
beach access mats
We're sure you'll agree Bonnechere Provincial Park sounds incredible! Put Ottawa Valley on your agenda this spring!
2. Algonquin Provincial Park
Arguably the most popular park in Ontario, this location in Southeastern Ontario has developed a series of wheelchair accessible and barrier-free facilities.
So if you're interested in visiting, plan your Algonquin Adventure today
3. Awenda Provincial Park
Located near Georgian Bay 2 hours outside of Toronto, Awenda Park has plenty of barrier-free areas to make the park accessible for all visitors, including: wheelchair accessible platforms to the lake, a barrier-free trail called Beaver Pond Trail, and all-terrain wheelchairs for rent.
Head up north and see what the beautiful area of Georgian Bay has to offer!
4. Bronte Creek Provincial Park
Located in Oakville Ontario, Bronte Creek has a popular accessible trail called Maiden's Blush, with a paved trail through mature forests. If you want to travel to a provincial park, but don't want to go too far, Bronte Creek is just around the corner.
See just how close you are to a natural escape in the Halton region!
5. Kakabeka Falls Provincial Park
Located thirty minutes from Thunder Bay, this park has the second-largest waterfall in Ontario and has many visitors every year. It has two accessible trails: The Boardwalk Trail, which is 750 m and surrounds the falls, and The Mountain Portage Trail, which is a 1.25 km scenic trail.
Head to Kakabeka Falls this spring to see some beautiful sights!
6. Mashkinonje Provincial Park
If you're interested in exploring some of Ontario's diverse wetlands, including marshes, bogs, and swamps, you can head to Mashkinonje Provincial Park. Located 1 hour from North Bay, and 1 hour and 15 minutes from Sudbury, there is an area in the park called Loudon Peatland Trail, with 600 m of barrier-free accessible boardwalk overlooking the wetlands.
If you're a big wetland enthusiast, then this park is the perfect place for you!
7. Ouimet Canyon Provincial Park
Ouimet Canyon is a day-use only park with panoramic views of a 150 m wide gorge and sheer cliffs that drop 100 m straight down to the canyon floor. Arctic plants, usually found 1000 km north, survive in the unique environment at the bottom of the canyon. There is barrier-free access through the park's 1 km lookout trail, which gives visitors access to several vantages.
So if you love canyons, cliffs, and other types of rock formations, add Ouimet Canyon to your must-see list this spring or summer!
8. Pinery Provincial Park
Home to beautiful beaches and lovely colours that bloom on the trees in the fall, Pinery has plenty of accessible trails for visitors, including: Cedar Trail, Heritage Trail, and Riverside Trail. Pinery is located 1 hour from London or Sarnia. Don't miss your opportunity to see this beautiful park.
See for yourself – there's nothing quite like this Oak Savannah habitat along the shores of Lake Huron!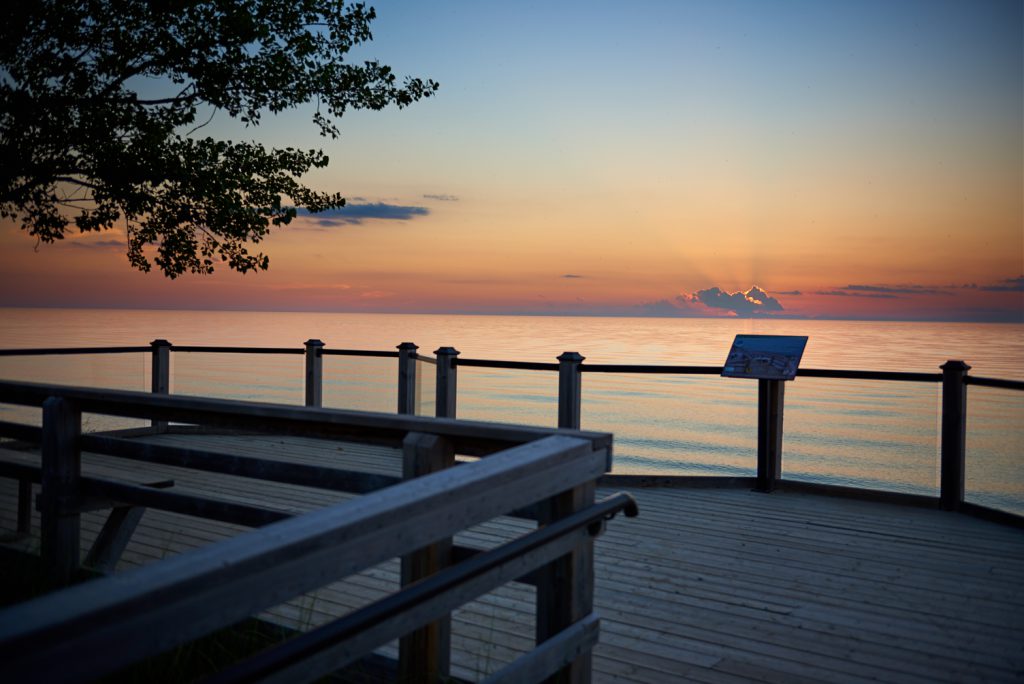 9. Rondeau Provincial Park
Located 3 hours from Toronto and 1.5 hours from London, Rondeau Park is known for its majestic beaches and colourful forests, popular and world-renowned for birding. There is a 2 km stretch of paved road that is closed to vehicles and makes a great sturdy path for accessibility.
Head to Rondeau today for plenty of spring fun!
10. Wasaga Beach Provincial Park
Wasaga Beach is less than 2 hours away from Toronto and has great terrain for wheelchairs. There are even all-terrain wheelchairs for rent to use on the beach and in the water.
Plan your next beach party and catch some rays this summer!
Whichever provincial parks you decide to go to, it's good to know that there are plenty of options available when it comes to accessibility. Be safe and have fun!
Visit Beach accessibility at Ontario Parks for additional information on all of the accessible provincial parks listed in Ontario.