Volunteering, fundraising, donating, making a difference.
These are just some of the wonderful people in our community
who give to help people with spinal cord injury live a life with choice.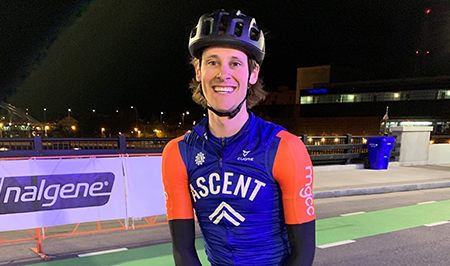 Adam Millar
"When my Dad was injured in 2016, SCIO was instrumental in helping him and our family navigate the endless challenges that a spinal cord injury can present. We wanted to find a way to give back to the organization and make sure other people that sustain an SCI have the same, if not better experiences."
Lynn Turnbull
"When we write our Last Will and Testament, we consider people and things we love. We leave gifts to benefit others, so that a little piece of us can live on. SCIO has been part of my family for a long time. My sister, Barbara, was a client, a fundraiser, a donor and a much-loved community member of the organization. Through Barbara, I've seen first-hand the powerful impact SCIO's services can have on a person's life. For this reason, I too fundraise, donate and have made the decision to leave a gift in my Will so the charity can continue their life-changing work even when I'm gone."
Jude
"If someone gets hurt they feel sad. I wanted to make people feel good and, by raising money … I could help people like Grandpa!"  Jude's beloved Grandpa Ron sustained a spinal cord injury and Jude was inspired by to hand make and sell decorations to raise money to help people with spinal cord injuries."
Peter Beck
"My good friend was a client with SCIO's Employment Services team. People with disabilities are so often overlooked by employers. Of the many challenges people face in life, struggling to find employment because of society's misconceptions is one we can conquer together by speaking out as a community and working with employers to encourage more inclusive environments. Seeing the support and guidance SCIO offered to my friend and continues to provide people with spinal cord injuries and other physical disabilities inspired me to donate and to keep donating."
David Baldwin
"There was no Peer Support when I was injured and I was left in the dark about how to live my life going forward. I then had a chance to see the benefits of the Peer Support service from SCIO, which is what inspired me to become a volunteer. I enjoy meeting new people which is one of the best parts of volunteering. I want to help others by providing them with knowledge and hope for their future. I want to help them to find something that will get passion back in their life."
Michael Sava
"I always loved to help others and have a positive impact on my surroundings, I dream of becoming an accomplished Doctor so that I can combine my interest in science and passion for enriching other peoples' lives…A few years ago, a dear friend of my family, Florin, sustained a spinal cord injury and his grit and determination facing all kind of challenges inspired me to create an event so that people can learn more about spinal cord injuries." Inspired by his friend Florin's determination after a spinal cord injury, Grade 10 student Michael Sava organized a Swimathon to raise funds and awareness for SCIO, combining his passions for swimming and helping others.